A much-loved specialty of the house and one I have been making for a long time. My father (who likes chocolate -- so long as it's not mixed with anything else!) poo-pooed this recipe for years -- until he finally tried it!
Makes one 9-10-inch round cheesecake and lots of very happy and well-fed friends!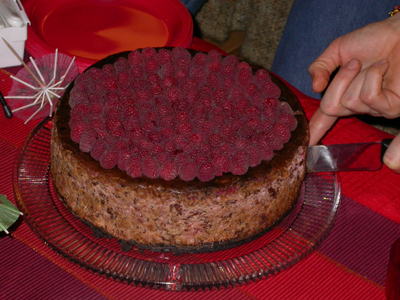 Ingredients:
1 1/3 cups Oreo cookie crumbs

1/3 cup melted butter

2 lbs. cream cheese

2 Tbsp. corn starch

3 eggs

1 cup granulated sugar

1 cup sour cream

4 cups raspberries

3 oz. liquer (I use Maple Leaf Distillers' "Creme de la Creme Chocolate Raspberry Cream Liquor")

8 oz. fine bittersweet chocolate, melted
Directions:
To make the crust:
Combine the cookie crumbs with the melted butter.
Press onto the bottom of a greased 9 or 10 inch round springform pan.
Bake for 8 minutes at 350 F.
To make the filling:
Beat the cream cheese until soft.
Add sugar and corn starch and beat until smooth.
Add the eggs, one at a time, mixing well after each addition.
Beat in sour cream, 2 cups raspberries and liquer, then melted chocolate.
Pour filling over crust and bake at 350 F for 75 minutes (or until set).
Allow to cool 8 hours before removing from pan.
To garnish:
Carefully remove cheesecake from springform pan and place on serving platter.
Decorate with fresh raspberries.
Enjoy! (With many friends!)